News
The latest news on this change — carefully culled from the world wide web by our change agents. They do the surfing, so you don't have to!
Green Jewelry...Literally!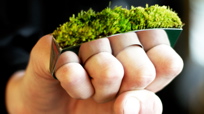 Gold is out, green is in! Eco-consciousness is impacting all industries, which means you can find almost every consumer product in a green version...and now that includes jewelry! But not jewelry that is produced in an eco-friendly manner. Rather, this jewelry is literally a living thing. Curious?

As the Icelandic product designer, Hafsteinn Juliusson, puts it, it's "an experiment in drawing nature toward man, as nature being the presupposition of life." So far he has stuck to two products: rings and "brass" knuckles, both of which are silver with what looks like moss growing upwards.

Do you think this particular green idea is forward-thinking in terms of "going green," or more of a consumerism gimmick? Or maybe just a designer's artistic vision? Lastly, would you buy it?!?

Posted: 9/11/08