News
The latest news on this change — carefully culled from the world wide web by our change agents. They do the surfing, so you don't have to!
Green-i-licious Face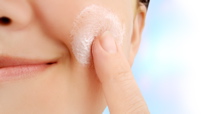 Waking up to an unsightly blemish smack-dab in the middle of your nose can be a bummer, especially when you have that hot date tonight, right? But treating it with harsh, chemical-laden pimple products can also be a pity for your skin. That's because traditional products are whipped up with yucky stuff, like parabens, which can actually do more harm than good to your skin.

The Earth doesn't like them either. You might think that your face products only stay on your face, but those ingredients make their way to the environment, too. According to Ideal Bite, the cosmetics industry has only tested for safety about 11% of the more than 10,000 ingredients that are used in your personal care products.

That said, you might want to take some advice from Michael Pollan, author of In Defense of Food, who says "If you can't say it, don't eat it." In this case, if you can't say it, don't put it on your face. Can you say hydroxyethylcellulose or ethoxydiglycol? We didn't think so, but those are just two of the ingredients in the ever-popular ProActiv acne treatment system.

Here are a few face- and eco-friendly options to try instead:

* Daniel Kern Starter Kit: Think of it as ProActiv minus the parabens.

* Desert Essence Green Tea Facial Cleansing Pads: Made with pure essential oils and natural botanical extracts.

* Burt's Bees Herbal Blemish Stick: The ten natural herbal ingredients will make your face totally buzz-worthy.

We want to know: What natural cure do you have for your worst facial woes?
Posted: 11/18/08