News
The latest news on this change — carefully culled from the world wide web by our change agents. They do the surfing, so you don't have to!
Giving in September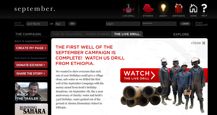 Water is something we take for granted here—so much so that we pay for it when we can get it for free. Today, consider not only cutting down your own consumption to create a greener world, but giving some of what you'd spend on bottled or filtered water to someone who really needs it (in a really fun way!)

Charity:water founder Scott Harrison began the September campaign last year to encourage people to give much needed funds to his new non-profit rather than give him gifts on his birthday. This year, the stakes have been raised. Hundreds of people are asking the same thing of their friends and relatives. Over $800,000 has been raised—but the work isn't done!

In the spirit of friendly competition, Scott is trying to out-fundraise seven-year-old Max Schmidhauser...and he's losing terribly. Scott said he'd raise 10 times the money Max could or record a public video concession ( for YouTube) admitting defeat and declaring Max "The greatest. My hero." Looks like Scott might need to start working on that video.
Unless you want to help him, that is! To donate to Scott's September Campaign, click here. Have a soft spot for Max? Help him by donating here. Either way, the money goes to building more wells in Ethiopia. We call that a win-win situation!
Tell us who you're rooting for, and pass along the links above to your friends. Together, we can give the gift of clean water in September that will last a lifetime.
Posted: 9/24/08