News
The latest news on this change — carefully culled from the world wide web by our change agents. They do the surfing, so you don't have to!
Getting Your Hands on Some "Green"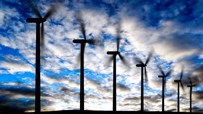 Green opportunities have pervaded almost all sectors of life, including the stock market. So far, the big guys tend to be makers of solar panels, wind energy and biofuels, but if you're thinking of getting your hands on some of the green, listen up.
The overall returns on most green stocks are not spectacular. Yet! Just as it will take some time for the prices of organic food to come down, green stocks do not always show quick profits. But isn't
going green
all about the long-term benefits and gains anyway?
If you are still perplexed by the variety of options, think about what green issues most interest you. If you truly believe in the cause, initial losses won't seem so catastrophic. Look for companies that are unique, such as Fuel Tech, which creates a spray to decrease acid-rain-producing nitric oxide made by power plants. Only a handful of companies specialize in this, so there is a good chance Fuel Tech could really succeed and stand out.
Would you consider buying green stocks? [
Forbes.com
]
Posted: 5/27/08