News
The latest news on this change — carefully culled from the world wide web by our change agents. They do the surfing, so you don't have to!
Eco-Office?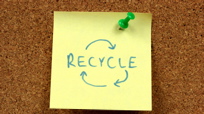 Visit any office and you're bound to see more than a few wasteful habits—stacks of paper coffee cups, piles of discarded printed paper and lights that remain turned on at all times (sometimes even overnight). But, it's not hopeless! Here are a few almost effortless ways to get you started.

The Ecopreneurist has the following suggestions:
Make recycling bins as visible as trash cans, and pair them up as much as possible.
Dispose with disposable coffee cups! Just like your home, your office (probably) has a kitchen sink. You don't use disposable, paper or styrofoam cups at home, right? Bring in some coffee mugs!
If you're lucky to get a lot of natural lighting, turn off the lights for a bit.
The AC is probably jacked up high during the summer, but think about cross-ventilation options once temperatures cool down a little. Opening windows can be a nice change from temperature-controlled environments. Remember that thing called nature?

Learn more about going green with our tips and expert advice! We want to know what you've already done to make your office eco-friendly. Share your tips with us! [Ecopreneurist]
Posted: 8/6/08