News
The latest news on this change — carefully culled from the world wide web by our change agents. They do the surfing, so you don't have to!
When In Doubt, Outsource!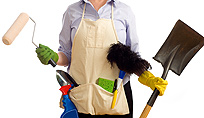 The term "outsourcing" has turned up a lot lately, often referring to jobs outsourced abroad, but it can also refer to domestic and personal matters at home, literally. Whether you employ a babysitter, housecleaner, personal assistant, fix-it man or any other number of people to assist you, outsourcing is a great way to get organized if you're short on time.

According to Chris Higgins, a professor in Ontario, the number of organized activities, especially for children, has increased, which in turn results in parents having to do some reordering of their own schedules and lives. He says that even "leisure time" is structured and organized, with more people taking lessons as opposed to playing games for fun, as one example.

Because of these saturated schedules, another outsourced job is added to the list of possibilities: a professional organizer. They do for your home what personal assistants do for your life: get things in order!
Do you "outsource" any of your household tasks? [Edmonton Sun]
Posted: 7/3/08