News
The latest news on this change — carefully culled from the world wide web by our change agents. They do the surfing, so you don't have to!
Taking a Time-Out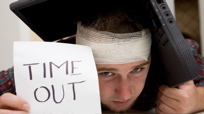 Sniff sniff, cough cough. Oh no, it's the common cold! While your body may be telling you to stay home and rest, duty calls. There's too much work at your job, even if you do get paid sick days. And there would be so much to do at home if you did spend a few days there, so you might as well just go to work, right?

Carol Kaufmann at Reader's Digest recalls getting an email that contained the word "presenteeism": "employees who are at work, but really aren't" because of other personal distractions or issues. Well, that sounds familiar! But what are some real ways of organizing the chaos and attaining focus?

Kaufmann does some research and comes up with seven ways to stay focused amidst the humdrum and rigmarole, including making to-do lists where you prioritize items, making sure you take breaks and paying attention to the "mind-body connection," those times when stress=headache or overwork=backache. In our constant quest to stay organized and on top of life, how do you remain focused?
Posted: 9/23/08