News
The latest news on this change — carefully culled from the world wide web by our change agents. They do the surfing, so you don't have to!
Email Overload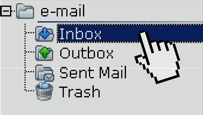 The need itself to organize emails can get lost in the shuffle because digital chaos can still look so manageable on the surface—no stacks of papers or snail mail lying about. Out-of-control email is a chronic problem for a lot of people out there who use it for work in particular, which, let's face it, is most of us.
If you do email frequently, you are probably utilizing one of the more popular email programs like Apple Mail, Microsoft Outlook or Entourage, but most of these are tied to your computer, exclusively. What if you are away or your laptop is in the shop?
PCWorld
finds that Gmail is one of the best email services for remotely checking and
organizing
, with solid spam filters and messages organized as if they are conversations, among many other features.
Regardless of which program you prefer, sorting into folders as soon as you receive messages is imperative; otherwise, you will experience email build-up.
Do you have any personal tips keeping for staying on top of your digital communications? [
PCWorld
]
Posted: 6/27/08