News
The latest news on this change — carefully culled from the world wide web by our change agents. They do the surfing, so you don't have to!
Commitment Clutter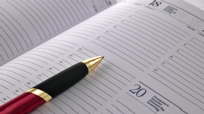 Unclutterer interviews "organizing legend" Julie Morgenstern, the author of When Organizing Isn't Enough: SHED Your Stuff, Change Your Life, about the different kinds of clutter. It's pretty easy to identify that a basement full of junk, a closet full of old clothes you'll never wear or a storage space of "extra" furniture may be in need of some decluttering, but what about the more abstract kind of clutter?

Like...commitment problems! Well, we're not talking about the proverbial fear of commitment. Quite the opposite actually: we are overcommitted! Morgenstern defines "commitment clutter" as "unfinished projects and to-dos, unfulfilled obligations, and cumbersome roles which bog you down, make you feel bad about yourself, de-energize and deplete you." If you find yourself with practically every "time-slot" of the day filled with something, whether it's a social engagement or something around the house, it may be time to declutter.

Some projects and obligations are necessary—doing the dishes, taking the kids to soccer practice—but take a moment to go day by day, hour by hour, and think about the commitments that are cumbersome or de-energizing. What do you really not like to do? Does anything come to mind? Are some of your commitments dragging you down? Make a plan to shed a few and see how you feel.
Posted: 8/12/08