News
The latest news on this change — carefully culled from the world wide web by our change agents. They do the surfing, so you don't have to!
Car Trouble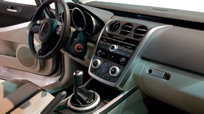 It's easy to overlook your vehicle when planning out organization and cleaning projects. It's just a mode of transportation—no one has to live in it! But what if it looks like someone does live in it? Not good! Chauffeuring the kids to and fro in a messy car is not exactly encouraging for the next time you, say, ask them to clean their rooms. A disorganized car will also negatively color your commute or road trip, so why not spiff it up?

Unclutterer is here to rescue you! Before tackling many organization projects, ask yourself the proverbial "in an ideal world" question: what would your car look like on the inside if you could have your way? How should you stow away emergency necessities, snacks, maps, etc.? What doesn't belong there at all?

Unclutterer suggests dividing up the car into zones of attack to make getting organized more manageable. It's easy to forget those places that hide mess—glove compartment and trunk—but these "junk drawers" need tending to as well. How do you tackle car clutter?
Posted: 7/28/08