News
The latest news on this change — carefully culled from the world wide web by our change agents. They do the surfing, so you don't have to!
A Yen for Zen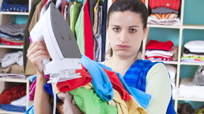 We know people who love to clean. "You get into it," they say. "It's like Zen for cleaning." We know people who should love to clean, because they live surrounded by clutter. They have a yen for the Zen, but not enough to do anything about it.

A question: How many books are there now that will help you with your clutter, help you realize that your clutter, as long as it's there, is merely an outward manifestation of an overburdened mind? (Or something like that. Maybe it's the other way around.) Anyway, no matter.
Proposition One: Most of us have clutter at home.
Proposition Two: Most of us want it magically to disappear or organize itself.
Therefore, there are books to give us courage. But do they work?

Well, here's a lively opinion from someone who doesn't quite fall for the shtick these books promote. We all have a yen for Zen, but some of us have doubts. At least, once in awhile.
Posted: 3/23/09