News
The latest news on this change — carefully culled from the world wide web by our change agents. They do the surfing, so you don't have to!
A "Messterpiece" Documentary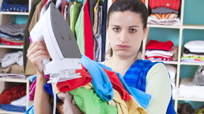 There is a new Canadian documentary out called "My Messy Life," created by Josh Freed, a certified clutter master. In making the film, he sought out successful messy people and compared their messes, even timing how long it takes to find a certain item amidst the disarray. He disdains the phrase "organized chaos," because to Freed, it's not chaos, but merely a different way of
being organized
.
Freed argues that unlike a lot of people, he cannot work well in tidy spaces. He came out of the cluttered closet, so to speak, in 2005, unveiling his home office after he was invited to a conference for Toronto's "most prolific minds." What soon followed was an outpouring of similar stories—mess and success going hand-in-hand.
Ultimately, Freed concludes that organization is deeply personal: the line between disorder and dysfunction is very fine. If the mess stresses you out, you need to clean up. If it makes you feel comfortable and efficient, then there's no need to make a change.
If you want to learn more, watch the video below for an interview with Josh Freed. [
Ctv.ca
]
Posted: 5/27/08