News
The latest news on this change — carefully culled from the world wide web by our change agents. They do the surfing, so you don't have to!
Shot in the Act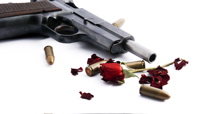 An Ohio woman is in the hospital being treated for a gunshot wound obtained during what her husband said was lovemaking. The gun went off when he was reaching for something on the bedside table... a glass of water, perhaps?
It seems awfully fishy, especially since the couple are not strangers to the courts and there was actually a restraining order in place.
Is that what they mean by mind-blowing make-up sex?
Let's hope this couple can stay estranged this time, before something fatal happens.
Posted: 12/3/08