News
The latest news on this change — carefully culled from the world wide web by our change agents. They do the surfing, so you don't have to!
Share Your Story on Television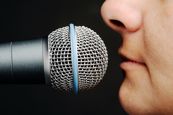 Are you currently going through a job change, relationship change or financial change? If so, we're interested in hearing your story and possibly interviewing you for a segment to be broadcast soon on national television.

You can be anywhere in the US, should be open to letting us interview you in your hometown and willing to appear live on national TV in September in NYC. You should be willing to speak candidly about your change. Send an email to feedback [at] first30days.com if you're interested.
Posted: 8/11/08