News
The latest news on this change — carefully culled from the world wide web by our change agents. They do the surfing, so you don't have to!
Wham, Bam, Thank you, SPAM!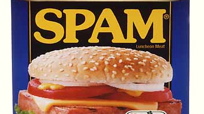 Introduced by Hormel in 1937 as Hormel Spiced Ham, SPAM has worked its way into popular culture as well as onto the shelves of stores in 43 countries. Although it's made from pork shoulder, it's been the butt of many jokes over the years, the most famous probably being the Monty Python skits.
A staple on camping trips, purchased regularly in Australia and eaten with eggs, rice or noodles as a breakfast meat in Asia, SPAM gained popularity in the United States during lean economic times and is currently making a comeback as wallets shrink and belts tighten.
Watch this video about the much maligned pink meat and chime in on your thoughts about SPAM.
Posted: 11/24/08