News
The latest news on this change — carefully culled from the world wide web by our change agents. They do the surfing, so you don't have to!
Top 5 Financial Movies to Watch...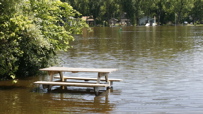 You tried to ignore the weatherperson because he or she is not always right. But unfortunately, the prediction of rain has come true. (We're not raining on your parade, tee-hee, but preparing you, instead!)
And because it's a holiday weekend, we didn't want to bog you down with too many financial lessons. There ought to be an element of fun, don't you think? Here's our list of top 5 financial movies that combine finance and fun. They'll entertain the guests and help you achieve your financial dreams. Well not really, but you get the idea. Enjoy!

• Boiler Room
• Trading Places
• Secret of My Success
• Wall Street
• Glengarry Glen Ross

We really hope it doesn't rain on your picnic. But if it does, we promise not to say "told ya so!"
Posted: 7/3/08