News
The latest news on this change — carefully culled from the world wide web by our change agents. They do the surfing, so you don't have to!
The Scoop on Store Closings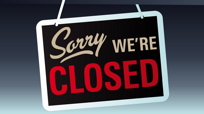 Going, going, gone. Stores are tumbling like dominos as a result of the current economic slowdown.
If you've been holding onto a gift card you might want to run, not walk to the nearest store and redeem it while they're still in business. At times like these retail stores respond by halting expansion and shuttering underperforming or redundant storefronts (think Starbucks).
But don't go by the lists floating around cyberspace--some of them are old. Snopes.com has a current list (11/18) with sources cited:
The Ann Taylor chain of women's clothing stores is expecting to close 25 Ann Taylor and 39 Loft outlets in 2008 (out of approximately 960 stores), with another 53 store closure by the end of 2009
The Caché chain of women's specialty apparel stores closed 14 underperforming outlets, but is still has 295 stores across the country and is still opening new stores.
The Charming Shoppes chain of plus-size women's apparel stores has closed 150 of its approximately 2,360 outlets.
The Circuit City chain of retail electronics stores filed for Chapter 11 bankruptcy protection in November 2008.
The CompUSA chain of consumer electronics stores was sold to the Gordon Brothers Group restructuring firm in December 2007 and began liquidating all 103 of its outlets in January 2008.
The Dillard's department store chain closed 20 outlets in 2008 and said it expects more store closures in 2009.
The Disney Store chain was re-acquired by the Walt Disney Co. in March 2008; Disney has since closed 98 of its 322 North American stores.
The Eddie Bauer chain of casual apparels stores shut down 27 outlets in the first quarter of 2008 and planned to close a few more stores by the end of the year.
The Ethan Allen chain of home furnishings stores closed 12 retail design centers and two service centers in 2008.
The Foot Locker chain of shoe stores chain closed 274 outlets (out of more than 3,700) in 2007 and another 60 in the first quarter of 2008, with more such closures likely.
Whitehall Jewelers acquired the remnants of the Friedman's and Crescent chains in early 2008 after that combined company entered bankruptcy, then Whitehall itself filed for Chapter 11 bankruptcy protection in June 2008 and began liquidating and closing all 373 of its remaining stores.
The Gap chain of clothiers, whose brands include Old Navy and Banana Republic, is closing 85 of its 2,677 stores (most of them branded Gap outlets) but is still opening new stores.
The Movie Gallery/Hollywood Video video rental chain filed for Chapter 11 bankruptcy protection in October 2007. Under the bankruptcy reorganization (which ended in May 2008), the chain closed 542 Hollywood Video stores and 378 Movie Gallery stores.
The Home Depot chain of home improvements stores announced in May 2008 that it would be closing 15 underperforming outlets.
The KB Toys chain of retail toy stores entered Chapter 11 bankruptcy protection in January 2004 and at that time announced plans to close 375 of its outlets. It emerged from Chapter 11 reorganization in August 2005.
The Kirkland's chain of home decor stores is expecting to close 130 (of its approximately 335) outlets by the middle of 2009.
The Levitz Furniture chain filed for Chapter 11 bankruptcy protection (for the third time in ten years) in November 2007 and shortly afterwards began the process of closing its stores and liquidating its remaining inventory.
The Macy's chain of department stores closed 11 (of its approximately 800) outlets in 2008.
Pacific Sunwear closed 74 underperforming stores in its d.e.m.o. line in 2007 and closed all 154 of its remaining d.e.m.o. stores in 2008. (The company has not so far announced plans to close any of its core Pacific Sunware outlets.)
The Pep Boys chain of auto supply and repair stores closed 31 low-return outlets (out of approximately 600 stores) at the end of 2007.
The Sharper Image chain of electronics and specialty gifts stores filed for Chapter 11 bankruptcy protection in February 2008, then began closing and liquidating all 184 of its outlets in June 2008.
Sprint, a global provider of voice, data and Internet services, announced in January 2008 that it would be closing about 125 of its 1,400 retail outlets.
Talbots Inc. announced in November 2008 that it was seeking to sell off its chain of J. Jill casual clothier stores. Talbots has already shed its Talbots Kids, Talbots Mens and U.K. businesses and has closed an additional 28 Talbots stores (out of about 1,400 total outlets).
The Wickes Furniture chain began liquidating merchandise and fixtures at locations nationwide in February 2008 as part of bankruptcy proceedings.
Wilsons Leather (the Leather Experts) announced that it would be closing all 260 of its mall-based locations & 160 will be shuttered permanently, and the remaining 100 will be remodeled and revamped as a "Studio" concept focused on fashion accessories for women.
Zales Corp,, which operates Zales Jewelers, Zales Outlet, Gordon's Jewelers, Peoples Jewellers, Mappins Jewellers, and Piercing Pagoda, closed approximately 105 retail outlets (out of 2,130) in 2008, half of them kiosks and half of them stores. However, the company also opened approximately 100 new outlets in 2008, so the net change in the number of Zales-operated stores was relatively small.
Source: snopes.com
Posted: 11/21/08