News
The latest news on this change — carefully culled from the world wide web by our change agents. They do the surfing, so you don't have to!
The Inexpensive Birthday Bash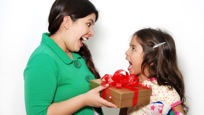 When it comes to living the frugal lifestyle, the folks over at Wise Bread sure do have some great tips! This time they've come up with some ideas that are fun for the kids, but don't necessarily cost a lot of money.

A word to the wise, though. If you're going to spend the money for a party, a great location where kids can let loose and have fun trumps decorations. Forget the directions, just let the kids have fun!

Check out these inexpensive ideas for wonderful birthday bashes:

- Basketball party held in your driveway

There's no cost, except for the cake, ice cream, and gift you buy your child. It's about the kids interacting and having fun, all while giving the parents a chance to mingle.

- Baseball party in the park

There may be a small fee associated with this, but it won't be much. While the kids expend energy running after fly balls, you can sit back and watch them have a good time (and be thankful they'll be tired by bedtime)!

- Sleepovers

Who doesn't love a good sleepover? With the girls, it's all about dressing up, debating who's the cutest boy in class, and endless rewatching of chick flicks. With the boys, well, we're not boys so their activities are a mystery to us. But, we've heard it's a good time to be had by all!

Other inexpensive venues that you can consider are your local church, YMCA, bowling lanes, and movie theater (which can be pricey depending on the area and the length of time you rent it).

The idea is to make it a good time without overwhelming the kids with too many activities. Let them have a little input and make the planning session a family event. Giving them responsibility may help them enjoy the whole process even more. It is their birthday after all!

What other frugal ideas on birthday parties can you share with fellow parents? Any activities that you found to be fairly inexpensive, but a big hit with the kids?
Posted: 9/26/08