News
The latest news on this change — carefully culled from the world wide web by our change agents. They do the surfing, so you don't have to!
It's About Sacrifice, Not Luck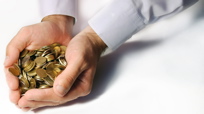 Being a stay-at-home parent takes effort and skill, and no one knows that better than Jason over at Frugaldad.com. When he was recently told that he was "lucky" because his wife was able to stay at home and take care of his child, he argues that his family has made their share of sacrifices to "pull off this lifestyle." Among them, he lists:
"We both drive old, used vehicles (mine is really old!). We did upgrade to an SUV when we had our second child, but we bought it used via a private sale and got a great deal. I drive an 18 year-old van back and forth to work."
"Our entertainment budget is virtually non-existent. We try to take an annual vacation, but we usually only get away once every two years or so."
"We have less money in savings. Since living on one income tends to be tight we have had less money to save and invest over the years, which will probably lengthen the amount of time I have to work."
"The opportunity for one of us to stay home with the kids is not granted by luck, rather by making other sacrifices in our lives. The bottom line is it is all about priorities. If you are willing to make certain sacrifices, being a full-time parent can be a rewarding experience for both you and your kids."

This got us wondering what you have to say. In what ways have you sacrificed to have the lifestyle you want? [Frugaldad.com]
Posted: 10/15/08