News
The latest news on this change — carefully culled from the world wide web by our change agents. They do the surfing, so you don't have to!
Hamburger, Not So Much the Helper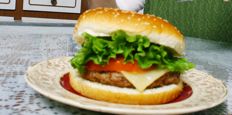 Here's a surprise, at least to us: You can actually find cuts of pot roast on sale for less money per pound than regular-priced hamburger. And, oddly enough, there's just as much you can do with a pot roast as there is with hamburger. So, you get to save a little money, have something different, and you can have delicious meals with the leftovers! For anyone trying to live frugally, making inexpensive and tasty meals is often a challenge.

Ok, we know what you're thinking: that's great and all, but pot roast takes a LONG time to cook. This is true, but you can throw it in a crock pot on low before work and it will be perfect by the time you get home in the evening. That part is totally up to you, but the best time frame for a perfect roast is 7-8 hours. Anything less than that, and it's usually not as tender.

Once you've had your initial meal, you can store the leftovers in their original juices in the refrigerator. Next day, skim the fat off the top of the juice and use the meat for the following hearty meals.

Sloppy Joes

Mix your meat with your favorite sloppy joe mix and serve on the bread of your choice. It makes for a nice variation from a traditional favorite – and frankly, they're not as messy!

Quesadillas

Get a large flour tortilla and layer one half with shredded beef, beans, onions, and cheese. Fold the other half over and spray each side with a cooking spray, then toast in a skillet until crisp. Serve with a dollop of salsa or sour cream.

The sloppy joes we've tried before and they are delicious—not to mention cheap to make. We got the idea for quesadillas from Wisebread where they also have some other great recipe ideas for frugal chefs.

What do you think? Is hamburger still cheaper to buy in your local grocery store? What other cost effective recipes can you share using pot roast or another favorite protein?
Posted: 8/4/08