News
The latest news on this change — carefully culled from the world wide web by our change agents. They do the surfing, so you don't have to!
Frugal Giving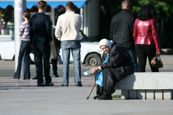 With the holiday season upon us and an economy teaching us to save our money, it's little wonder that many charities around the country are struggling. But donating to charity doesn't always mean you have to give money or time. When you're cleaning out the closets and extra bedrooms to make room for guests, consider the items you might be throwing away. Some charities will take your used goods to give to someone who needs them.

Many companies will take your items in good condition. The following are just a few of the items they'll take, and you may be surprised by a couple of them!

Ink Cartridges. We learned something new with this one! Pet Smart, of all places, will take ink and toner cartridges and then use the proceeds from recycling them towards saving homeless animals. Of course, there are other places to take your cartridges if saving animals isn't your thing.

Hearing Aids. There are companies that will repair and sell old hearing aids and then take the proceeds to buy new hearing aids for those who can't afford them. This is also done to purchase new eyeglasses for those who need them, as well.

Dentures. Um, we're not sure we want to know what they do with the dentures, though we're confident they're not rinsed with Listerine and handed to someone who needs them. But, since they're on the list, think twice before you toss your old dentures in the trash!

Most people feel good when they give to charity, but not everyone who is living on a budget can afford to offer money or time. What are some other household goods that you know can be given to charity? And, does anyone know what they're doing with those dentures? Yeah, we're kind of curious, but you know you are too!
Posted: 12/3/08