News
The latest news on this change — carefully culled from the world wide web by our change agents. They do the surfing, so you don't have to!
Watchamacall-em?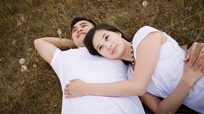 What would you do if your Aunt Shirley introduced you to her "lover?" What if the woman you had been dating and living with for three years referred to you as her "significant other?"

The language we use to identify our loved ones can be very powerful, but unfortunately, we don't seem to have a wealth of updated versions to suit the spectrum of relationships that exist today.

A USA Today article examines the fact that with many Americans dating into retirement age or choosing to live with a partner and not marry, terms like "boyfriend," "girlfriend," "husband" and "wife" just don't cut it anymore.

"I've talked about this with some of my female friends," Lynn Bartholome, a 57-year-old professor and popular culture expert, tells the newspaper. "I don't know what to say. I say 'the guy I'm dating.' I really honestly feel weird calling him my 'boyfriend.' Is a man you date and are intimate with a 'beau,' 'a significant other,' a 'partner?' I don't know."

While terms like "lover" may be appropriate among close friends, do you really want to announce to the world that you two are schtuping regularly every time you introduce each other? We think we should start coming up with some new terms of endearment. What do you call your lover/girlfriend/partner/sweetie pie/ball and chain?
Posted: 9/26/08