News
The latest news on this change — carefully culled from the world wide web by our change agents. They do the surfing, so you don't have to!
The Effects of Politics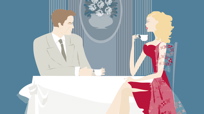 In the old days, elections were mysterious and remained so even after television made them seem public. Still, regular folks never saw the back-room deals and pit bulls certainly didn't enter the political discussion. (Maybe they were there all along and we just didn't know it. But, lipstick? Heck no. None o' that.)

Fast-forward to today. John McCain's daughter has posted a blog on The Daily Beast about—apologies to Monty Python—the "lingering afterburn" of her election experience. She's quite clear about her state of mind and frankly we find it stunningly interesting.

Who'd have guessed this would happen AND that we'd know about it? Yes we can live without the knowledge. However, at least it's not dull. Way to go, Meghan. Tell the world. We hope it helps dissipate the problem of goofy guys trying to get next to ya. But, we also hope this is a one-time revelation.
Posted: 3/3/09