News
The latest news on this change — carefully culled from the world wide web by our change agents. They do the surfing, so you don't have to!
The Backup Plan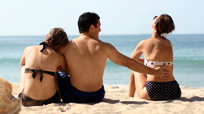 Life is full of back-up plans. Back in elementary school when we were plotting out our recess agenda, we had to decide which piece of playground equipment we would use if someone had already claimed the best swing. As we grew up and started paying attention to birthdays and bar mitzvah, we had to mentally prepare ourselves with alternate plans in case we didn't receive a coveted invite.

Fast forward to our adult lives and we're still concocting elaborate backup plans, only now they've gotten a little stickier. Psychology Today has published a fascinating article about the science behind courting a backup mate. All of us (well, most of us) have had an alternate waiting in the wings at some point, even while we've been in happy, healthy relationships.

"The Plan B partner, or backup mate, highlights a problem that both sexes struggle with throughout their reproductive lives, regardless of whether one is single or coupled," writes psychologist Nando Pelusi. "People need to accurately gauge their own romantic market value at all times, in order to find a suitable partner or maintain an optimal relationship."

While having and/or being a Plan B partner may be good for the psyche, it can also lead to a tangled web of confusion for both parties, especially if things start to get physical. If you've got a little back-up plan action going on, proceed with caution. Just like those days on the playground, you may end up on a dangerous merry-go-round.
Posted: 9/12/08