News
The latest news on this change — carefully culled from the world wide web by our change agents. They do the surfing, so you don't have to!
Nice Guys DO Finish Last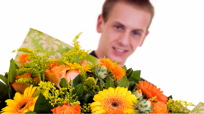 If you're a nice guy and you know it, and if the results of two new conflicting studies are accurate, it's likely you haven't seen any action for a while now.

The first study, completed by researchers at the University of New Mexico, found that the loathsome personality traits of a so-called "dark triad" are what help bad boys attract women. According to New Scientist they include: "the self-obsession of narcissism; the impulsive, thrill-seeking and callous behaviour of psychopaths; and the deceitful and exploitative nature of Machiavellianism." Yeah baby—a combination of Austin Powers, Dr. Evil and Zack Morris from "Saved by the Bell," all rolled into one! The researchers gave personality tests to 200 college students and then asked them a series of questions about their sexual history. They found that students who showed more of the "dark triad" characteristics had more vigorous sex lives.

The other study, also from the University of New Mexico, found that males who excel at self-deprecating humor were likely to attract more women. The Telegraph lists Hugh Grant as a perfect example of this trait. Perhaps this is where the deceptive Machiavellian leg of the triad comes in. A guy really wants to get a girl into bed, so he tricks her by making fun of himself?

Though this research is interesting, it's important to note that a lot of nice guys do find dates and do fall in love, get married and live happily ever after. But we really want to know is why nice guys get such a rough rap. Speak up ladies and gents! What do you think?
Posted: 7/28/08