News
The latest news on this change — carefully culled from the world wide web by our change agents. They do the surfing, so you don't have to!
First Date Do's and Don'ts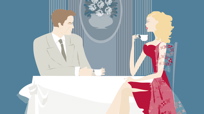 Perhaps you've just entered the dating pool or maybe you're a veteran to the sea. Whether you're a dog paddler or a seasoned swimmer, it never hurts to do a crash course in Dating 101 when you're looking for a new relationship. The "Today" show's web site has 10 essential tips for dating, but here's the five most important ones:

Don't: Give up
Yes, it can get discouraging when the last five dates you had tanked faster than our economy in the last month. However, just like markets, if you're patient, things will turn up.

Do: Mind your manners
Your date will run for the hills if he/she witnesses you berating the wait staff. And if you are someone who has a short temper with service industry staff, get a part-time job in a restaurant or retail. It will completely change your outlook.

Don't: Talk about marriage and babies
Remember the opening scene of "Baby Mama" where Tina Fey spills her life story regarding careers, babies and marriage in the first 10 minutes of her first date? It's hilarious in a movie, but it's a horror scene in a real-life date.

Do: Listen attentively
Eye contact: good. Subtle touches: good. Checking your cell phone every five minutes: bad.

Don't: Spend the night on the first date
Of course, disregard this if you want to look as if you have no self-respect, restraint or dignity.

Got any discussion points that we missed for our Dating 101 refresher course?
Posted: 10/14/08