News
The latest news on this change — carefully culled from the world wide web by our change agents. They do the surfing, so you don't have to!
Raisin' Awareness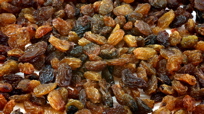 Of all the half-baked ideas… well this one isn't so much baked as it is dried, but an Australian medical team is using raisins as part of cognitive therapy to help depression patients. Before you go reminiscing about those dancing California raisin commercials, this therapy doesn't involve cartoons or catchy songs.

According to Australia's The Age newspaper, this new therapy is called Mindfulness-Based Cognitive Therapy and it "uses the raisin as a way to learn meditation techniques that make you more aware of the physical world, and your own thoughts."

Sounds a bit odd, no? Well, if you think about it, a raisin offers a lot to contemplate. It's tasty, squishy, has lots of funky wrinkles and an interesting history. Just where was the vine where it originated and where was it laid out to dry? Whew, that's hours of food for thought right there!

We might be acting a bit silly regarding this story, but the truth is it does have a good point. The object of this therapy is to train the mind to reduce negative thoughts. You can do that with a raisin, a date or fried plantains. The more you fill your mind with positive thoughts, the less room the negative ones will have to invade.

Is there a certain food or object that always brings you positive thoughts?
Posted: 11/4/08