News
The latest news on this change — carefully culled from the world wide web by our change agents. They do the surfing, so you don't have to!
Exploring the Fine Line between Sad and Depressed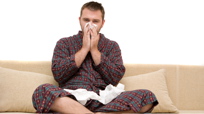 A man comes in to see a psychiatrist because his fiancée just left him. He can't sleep, he's agitated, he's lost interest in activities that use to excite him and he's been feeling a lot of, "What's the point in life?" If you were the psychiatrist, would you say this man is clinically depressed or is he reacting with "normal sadness" to a difficult emotional blow?

As the psychiatrist behind a recent New York Times article points out, there's no clear research to distinguish where sadness ends and depression begins. In most cases, psychiatrists and psychologists rely on the DSM-IV (Diagnostic and Statistical Manual of Mental Disorders, Fourth Edition) to diagnose and treat their patients. If the person meets a certain amount of criteria, they are classified as clinically depressed, regardless of how "normal" the circumstances are for their feelings, behaviors and actions.

Some experts argue that, as a society, we've become too dependent on drugs and over-hype depression. If that were true, our rates of depression should be sky-high compared to generations before us. In reality, depression rates have held fairly steady over the last few decades but it is true that more and more psychiatrists are favoring medication therapy over psychotherapy for all sorts of mental disorders.

What do you consider "normal" sadness? How does it differ from dealing with depression?
Posted: 9/16/08