News
The latest news on this change — carefully culled from the world wide web by our change agents. They do the surfing, so you don't have to!
Animal Attraction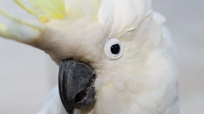 Birds do it, bees do it, even monkeys in the trees do it; It's online dating!

Zookeepers have long used studbooks, an animal matchmaking device not unlike the little black book, as a way to match up animals with suitable mates around the world. Now new software is allowing them to take the information online.

Instead of profiles that feature a female's preference for chai iced tea or romantic walks through the petting zoo, they feature details like the fact that a koala named Killarney once smacked an amorous male in the face. Other animals, like Tumpe the African elephant have had more luck.

"She is now cohabitating with a very handsome young male," John Lehnhardt of Disney's Animal Kingdom in Orlando, Fla told the Associated Press. "We have put these two together in the hopes that we'll have some success."

Zookeepers say that although the animals aren't finding love, they're helping to make sure the species survive. They do this by regularly updating the online studbooks to ensure the most compatible mates.

Have you updated your studbook lately?
Posted: 9/11/08