News
The latest news on this change — carefully culled from the world wide web by our change agents. They do the surfing, so you don't have to!
Let's (Eco) Clean House!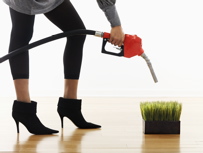 It may be brr-chilly outside, but in lieu of waiting until spring to clean up, we are suggesting a bit of winter scrub-a-dub-dub to get your house feeling green.

Cleaning up around your home seems innocent enough, right? Grab the bleach, ammonia and chemically-loaded products, and all that's left to find is your will to start scrubbing.

But the truth is standard, store bought cleaners are making your home a pollution war zone more than they are helping to keep things clean. Harmful chemicals take a toll on your eyes, lungs and nervous system, not to mention two-thirds of U.S. water supplies once they are washed down the drain.

Still, non-toxic, green cleaners can get a bit pricey, and in a time when people are scrimping and saving, that can make your eco-efforts a little tough to sustain. But what if you learned to make your own? Now, that would be both budget and earth-friendly.

First, you'll need to gather a few basic ingredients you'll want to keep regularly stocked in your pantry. That includes baking soda, essential oils,--hey, they need to smell good!--white vinegar, lemon, olive oil and plant-based liquid soap, like palm or coconut soaps. Try Dr. Bronner's Pure Castile Soap–-a popular, multi-purpose greenie cleaner.

Now, here are two recipes to try:

*All-Purpose Scrub:
½ cup baking soda, plant-based liquid soap (like Dr. Bronner's) and
½ of a lemon.
Pour the baking soda into a bowl and add enough liquid soap that it makes a paste.
Use the lemon as a "sponge" by spreading some paste on the flat side. You'll have a citrus scent and a clean kitchen!

*Window Cleaner:
1/2 teaspoon plant-based liquid soap,
3 tablespoons distilled white vinegar and
2 cups water.
Pour ingredients into a bottle, shake and spray.
And for a substitute for your regular sponge, try wiping windows down with newspaper. Greenie gurus say it takes away the usual left-behind lint, leaving you with shiny, clean glass.

We want to know: What's your favorite, all-natural way to get your living space clean?
Posted: 11/24/08