News
The latest news on this change — carefully culled from the world wide web by our change agents. They do the surfing, so you don't have to!
Suit Up, Ladies!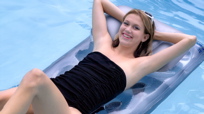 It's dangerous territory to enter, but let's talk about bathing suits! Almost every one of us needs one, but a common complaint is not finding a suit that is "forgiving." Changing your beach look can be a chore, but Real Simple magazine is going to try to make it, well, real simple to do so!

Writer Julee Wilson is confident in her curvy and muscular shape, but she still struggles to find a balanced bathing suit: one that covers up just enough to be tasteful but also exposes enough to feel sexy. Many women echo the same sentiment: while one can feel good about physical appearance and body image on most days, strap on a bikini, and suddenly, not so much.

Real Simple points out some bathing suit lines that cater to curvier shapes that (literally!) suit the needs of women across the board. "Malia Mills," for example, is a line that makes the tops with specific bust sizes, just like bra shopping and sizes bottoms in a similar way. Ready to take the plunge? Share your swimsuit-shopping tips with us!
Posted: 7/17/08