News
The latest news on this change — carefully culled from the world wide web by our change agents. They do the surfing, so you don't have to!
Quick Fix for Tough Times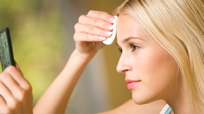 When you think about changing your look, you might feel like it requires a dramatic haircut or a brand-spanking new outfit. But sometimes just a few small changes can make you feel like a million bucks. Shape magazine has a couple of great tips for how you can look great fast, without emptying your wallet.

1. Shape up those brows. The dreaded uni-brow or simply an untamed mess above your eyes could be adding years to your face. Try an at-home brow kit or lean on a professional for some shaping and waxing. You may also want to try a popular salon trend called "threading" which is known as a painless way to get rid of pesky hairs.

2. Moisturize, baby! A simple moisture mask can work wonders on a tired face. Let it sit on your face for five minutes and you'll be out the door and looking fresh in no time!

3. Brighten those pearly whites. A whitening boost to your chompers is what some dentists like to call "an instant face-lift." If laser whitening at a professional's office is out of your budget, try an DIY treatment, like Colgate Simply White which is about $15 at drugstores.

We want to know: What quick fix do you rely on to revitalize your look?
Posted: 10/10/08