News
The latest news on this change — carefully culled from the world wide web by our change agents. They do the surfing, so you don't have to!
It's Fashion Week!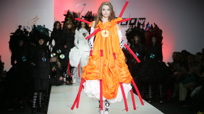 In agreement with The New York Times, yes, it does seem like it's always Fashion Week in New York! Well, that's because there are FIVE Fashion Weeks this year alone in the city! Other cities have caught on, so much so that it's probably always Fashion Week somewhere in the world. A survey actually found 152 Fashion Weeks during the year!

Why the sudden popularity? Ann Watson, Henri Bendel's fashion director, says, "Fashion has become so global that more and more countries are using Fashion Weeks as a way to unleash the creativity in their cultures. It's a way to be part of the global culture and relate to other countries that is not political."

Even if you don't rely on the runway for changing your look, what are your thoughts on Fashion Week? Are you excited for it, or are you feeling like this is just another parade of beautiful clothing that you (1) can't afford and (2) can't wear without getting started at?
Posted: 9/9/08