News
The latest news on this change — carefully culled from the world wide web by our change agents. They do the surfing, so you don't have to!
Free Daily Fashion Giveaways!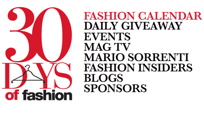 Giveaways always seem to be too good to be true. What's the catch? What do I have to buy? Are they going to take my email inbox hostage with ten messages a day?

Believe it or not, there are giveaways that are simply that! Enter 30 Days of Fashion, the campaign by the folks at Hearst Magazines (you know the ones, Cosmo, Esquire and O. The Oprah Magazine).

In addition to providing daily tips, podcasts and extensive fashion event listings, there is that little thing called the daily giveaway. Did I say little? Well, that Lauren Merkin Charlotte Clutch may be diminutively cute, but that and an Abby Computer Sleeve for your laptop retail together for $445. Head on over there today and enter to win them both!

30 Days of Fashion will continue through the rest of September, so check back often to make changing your look even easier, not to mention more fun! And don't forget to tell us what you learn from 30 Days of Fashion (and if you win!).
Posted: 9/18/08