Your Home Will Sell Itself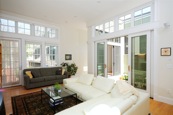 One of the most important steps in selling your home is the staging—de-cluttering, cleaning and rearranging to make your home as enticing as possible to prospective homebuyers. Marcia Layton Turner, author of The Complete Idiot's Guide to Staging Your Home to Sell, offers these tips to help you sell your home as quickly as possible for the highest price:

- Give the impression that you are fastidious about cleaning and upkeep by paying attention to detail at the front door. Put down a new welcome mat, paint the door and trim, clean the windows, sweep the stoop, trim the bushes and add some fresh plants.

- To lessen interior odors, wash and clean bed and window coverings, open the windows for 10 minutes before a showing, put liquid cleanser in the toilet and leave it there, and add fresh flowers.

- Make sure closets aren't stuffed to the brim. It gives the impression that there isn't enough storage.

- Orient furniture to draw attention to positive features, such as architectural details, fireplaces, built-ins or an outside view. Pull back curtains and window treatments to bring in light. To draw attention to hardwood floors, pull up rugs.

- For ideas on how to arrange a room or on the type of furniture buyers respond to, flip through catalogs from Pottery Barn, Crate and Barrel, Restoration Hardware and so on.

To receive 30 FREE daily tips on Selling A Home, go to and click the Yes button.

Posted: 6/21/10