What May Be Missing in Your Head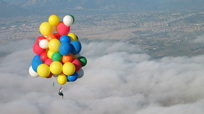 One of the easiest ways to bring more peace, joy, and fulfillment into your life is to become more flexible. "It's not about being weak, wimpy, or passive," says motivational speaker, Mike Robbins. "We can be firm in our convictions…and at the same time be flexible enough to make significant changes and be open to new ideas." He offers these five suggestions for increasing flexibility:

1. Let Go of Your Attachment – Let go of specific outcomes, particular way sof doing things, rigid opinions and so on. Don't stop caring. Just let go of your fixation on how something should be.

2. Be Willing to Be Wrong – Our obsession with "rightness" and fear of "wrongness" gets in the way of really going for what we want and letting go of attachments.

3. Don't Take Yourself too Seriously – It creates unnecessary stress and worry. The ability to laugh at ourselves allows us to relate to things in a more balanced, peaceful and creative way.

4. Go with the Flow – The more we trust ourselves and others and believe that things will work out, the more likely we are to let things roll off our backs and manifest with ease.

5. Get Support and Feedback from Others –We can learn from others who are more flexible than we are. We can also give people permission to remind us when we start taking ourselves too seriously.

Read Robbins' entire blog post here.
Posted: 6/2/10