Guaranteed Successful Marketing Strategy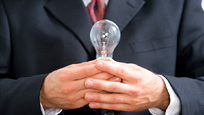 If you want your business to be more successful, start marketing from the inside out. "A great deal of time and money goes into building a brand, gaining attention, and telling a story to consumers," says motivation and productivity expert, Michelle Kerrigan. But "where's the marketing to employees?" After all, they're customers, too.

Customer support, in particular, should be the focus of some extra attention. Companies tend to overlook their influence on sales, but as Kerrigan points out, customer service is marketing. "Just think of all the companies you love and hate, and why, and I'll bet your customer service experience played an enormous role in making up your mind, or changing it," she reminds us.

Kerrigan advises setting up a continuous dialogue between customer service and other departments, such as marketing, product development, merchandising, and so on. In her experience, involving these agents in everything you're doing creates an amazing exchange of ideas and enthusiasm across all levels.

"The success you have with your internal audience will help you win your external one," she promises. "Satisfaction guaranteed."

Read Kerrigan's entire blog post on inside-out marketing.
Posted: 6/19/10