Online Dating Myths Debunked: My Change Nation Interview with Greg Waldorf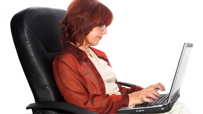 Are your common misperceptions about online dating—everyone will laugh at me, I'll only meet losers, and so on—keeping you single? Not only has the stigma associated with online dating decreased significantly, but the resulting connections are as authentic and special as any other. "People who have relationships or marriages…from our site are just as excited and have all the same emotions as people who may have met through a friend, or in a restaurant, or in a bar," confirms eHarmony CEO, Greg Waldorf, noting the photos of happy couples around his office.

Another huge barrier is the cost, but as Waldorf points out, it's modest when compared to the things you do to prepare for offline dating. "It's a reasonable place to spend money," he suggests. After all, it could be a life-changing experience.

Waldorf says there are two keys to being a winner on these sites—time and openness. To give a site a chance, stick it out for at least six months, and to give yourself a chance, be as open as possible. "The more open…in terms of the person you're willing to be matched with, the much greater experience you'll have," he says.

Listen to my entire Change Nation interview with Greg Waldorf.
Posted: 5/7/10