Graduating without a Job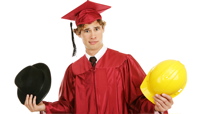 If you're graduating college without a job, make a plan now to stave off the post-college blues. "It's a huge change," says Marcos Salazar, author of The Turbulent Twenties Survival Guide: Figuring Out Who You Are, What You Want, & Where You're Going After College. Often "graduates don't know how to deal with the instability."

Instead of spending the upcoming summer sitting on the couch, watching bad re-runs, be proactive with these suggestions:

Use the internet. Research and search for jobs and job leads everywhere. You never know when you may find that perfect opportunity.

Volunteer. Find an organization you care about and connect with your community. It will make you more appreciative of your college years and may even lead to a new career choice or job opportunity.

Travel to a new place. If you can't go far, take a road trip with a few friends. You'll experience a new area while catching up with people who care about you.

Try working abroad. Perfect if you can't afford to travel and don't want to jump into a career. There are lots of programs that connect recent grads with these opportunities.

To receive 30 FREE daily tips on Graduating College, click here and then click the Yes button.
Posted: 5/2/10