Your Favorite Distractions: Healthy or Unhealthy?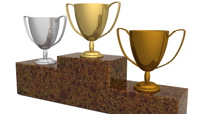 There are three types of distraction in the world. Do you know which is healthiest? Motivational speaker and life coach, Mike Robbins, explains the difference:

Unhealthy distraction
Negative habits that we use to avoid uncomfortable feelings, situations, and activities. Examples include food, TV, alcohol, "smart" phones, drugs, drama and over-scheduling.

Healthy distraction, for unhealthy reasons
Positive behaviors, but still used as a means of avoidance—"productive procrastination." For example:
- Going to the gym instead of to the refrigerator during times of stress
- Re-organizing the desk instead of making those dreaded phone calls
- Curling up with an inspiring book instead of working on a project
Better than unhealthy distraction, but there's still another level to reach.

Conscious, healthy distraction
Choosing to take a break, rather than using a behavior to avoid something. This type of distraction is most beneficial in terms of outcome and experience. Here are some ways to "distract" yourself in a healthy way:

- Meditate or take a walk in nature
- Exercise
- Sing, dance or listen to music
- Watch inspiring movies
- Laugh and play with children
- Help others or spend time with loved ones
- Paint, write or take a class
- Sit and do nothing

"It's not so much what you do, but why and how you do it," Robbins reminds us. Read his entire blog post here.
Posted: 5/18/10