Food Secrets from the Chef Who Fed Google: My Change Nation Interview with Charlie Ayers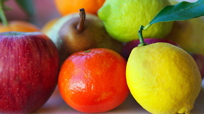 Can better eating habits help you take fewer medications? According to Charlie Ayers, former Google head chef and author of Food 2.0: Secrets From the Chef Who Fed Google, the answer is yes. "My medicine is food," says Ayers. "Doctors should teach nutrition in this country and not pharmaceutical addiction." He offers these tips for eating your way to better health:

- Eat five small meals a day, so you aren't famished by 1:00 and eating everything in sight. Include plenty of raw foods, such as fresh fruits and vegetables.
- When traveling, pack an emergency supply of nuts, fruit rollups or natural smoked jerky to help you resist the urge to have something unhealthy.
- Replace heavy salad dressings with lemon juice and cold expeller-pressed olive oil.
- Include fermented foods, such as yogurt, sauerkraut and pickled beets, in your diet for their immune-boosting benefits.
- When buying organic, look for the gold seal of organic certification, Oregon Tilth Certified Organic (OTCO). If you can't buy organic, "pesticide-free" is the next best thing.

Listen to my entire interview with Charlie Ayers.
Posted: 4/9/10