Master Life Skill #1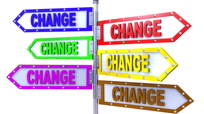 Change is the most important life skill to master. To help you through your next big transition, I offer these five crucial steps to productive change from my recent Examiner.com article:

1. Take care of your health. When you're going through change, you tend to sleep less, eat more, drink more coffee or alcohol and stop exercising. Remember, you need to physically move to start moving the emotions of change through you.

2. Allow yourself quiet time. Sit with what is, even for just 10 or 15 minutes a day. That's when intuition starts taking over and you think, "Oh, I see this" or "oh, I should call this person."

3. Become less selfish. Change is very me, me, me, but the human spirit wants connection, unity, giving, sharing and love. Find a way to give, to share, and to be there for someone else.

4. No labeling. During change, everything seems black and white—this is a good change or that is a bad change. In reality, we don't know what the future holds.

5. Know that we don't live in an either/or world. This is the focus of my next book, A Foot in Both Worlds. You don't have to decide between the corporate world and pursuing your dreams, or between ambition and spirituality. We live in an "and" world.

Read the entire Examiner.com article.
Posted: 4/24/10