A New Mom's Survival Guide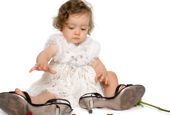 How can a new mom feel energized and inspired amidst constant feedings, changings and less than three hours of sleep a night? Loren Slocum, mother of three and author of The Greatest Love: Being an Extraordinary Mother, offers these tips and insights to motivate you in your amazing new role:

Get in touch with the woman you were before you gave birth. What were your interests and passions before baby? Choose the one thing you love most and make time to pursue it—with your baby, if possible. If singing was your thing, sing to your baby. If you loved crafts, sew or knit yourself a beautiful nursing shawl or baby blanket.

Celebrate the small things. Is your baby hungry again? Great! He or she has a good appetite. Changing diapers all day? Celebrate your baby's healthy digestive system. Amid the chaos and hard work, embrace the endless daily miracles.

Be yourself. You are a unique woman and a special mother. Integrate what you learn into what already works for you and add your own flair to it. Continue to be you and all of the other "skills" will fall into place.

Read more tips for new mothers in How to Survive Being a New Mom.
Posted: 4/22/10