Can a School Bus Change the World?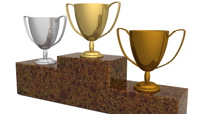 If signs can change our buying habits, couldn't they also improve our character? Watch the powerful new video from motivational speaker, Gary King, and you'll agree, the answer is yes! In under three minutes, What If demonstrates how "positive" signs offer a simple, yet effective solution to the country's decline in Integrity, Ethics and Character.

"What if in place of the school district [on buses] it said in large black print, 'REAL WINNERS NEVER CHEAT'?" proposes King, citing the national statistic that 80-90% of all middle school, high school and college students have cheated. "There are 450,000 yellow school buses in the United States."

As King reminds us, every day we see millions of road signs and product and service logos/messages that marketers use to create impressions and influence our behavior. Let's use this powerful medium to bring back what made this country great.

Read King's What If blog post.
Posted: 4/10/10