The Power of First Impressions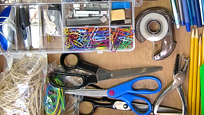 The clothes you wear can sabotage or support what you want to create in your life. "The power of a first impression is real and not disappearing anytime soon," says Kathi Burns, author of How to Master Your Muck. "Whether you are a man or a woman, you are judged by the clothes that you wear."

This seemingly cruel and unreasonable approach is hard to fight, Burns believes, because it stems from one of our most primal instincts, self-protection. "We are programmed to determine as quickly as possible whether the person next to us is trustworthy, or if we should take a flight-or-fight stance," she explains. "We simply rely on visual clues to determine whether we are safe." In the process, we make judgments about professionalism, financial status and personality.

Clothes affect not only the way we're perceived by others, but also how we feel about ourselves. "When we wear [certain items], our attitude throughout the day is more self-assured," Burns points out. "We feel happier and more successful."

Ask yourself, how do you want to be viewed by the world? How do you view yourself? Then use your wardrobe to help make these thoughts a reality.

Read Kathi Burns' entire blog post here.
Posted: 3/8/10