Tame the Narcissist in Your Life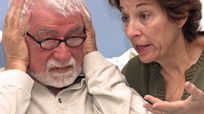 The best way to communicate your feelings to a narcissist—a highly self-absorbed and often demeaning, yet charming individual—is with a combination of empathy and confrontation. "Try to offer the benefit of the doubt. Try to offer understanding while still keeping them on the hook…holding them accountable," suggests Wendy Behary, author of Disarming the Narcissist: Surviving and Thriving with the Self-Absorbed. She offers a few examples of what you might say:

To a loved one:
"I know it's not your intention to be hurtful to me, but it's really coming across in a way that's completely unacceptable. It's gone too far, and we have to work on this or our relationship is at risk."

To an in-law:
"I respect your intentions and your expertise (in home decorating, parenting, whatever), but I'm trying to learn, too, and I really need you to respect the boundaries of my household while you're here."

To a boss/colleague:
"I appreciate your mentorship (or this opportunity), but when you speak to me this way, it makes me uncomfortable. Maybe we can find another way to talk about it."

To receive 30 FREE daily tips on Improving Relationships, go here and click the Yes button.
Posted: 3/28/10