Discharge Your Anxiety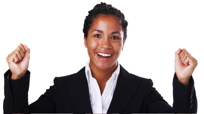 Resolving anxiety isn't as simple as "calming down" or "taking a deep breath," as well-intentioned friends and relatives often insist. Healing-arts practitioner, Emily Van Horn, maintains that rather than using cognitive abilities, you need to find a way to discharge the held adrenaline that is causing your anxiety. "When there's an event that our nervous system perceives as overwhelming, it may leave our bodies in an unfinished fight, flight, or freeze pattern," she suggests. "Somehow that excess energy surging around has to be discharged."

Van Horn suggests doing the following whenever you start feeling anxious:

- Start by acknowledging to yourself that you aren't crazy. Instead of blaming yourself for the negative feelings, let your body know that you understand it's just trying to protect itself because it feels threatened.

- Take a moment to notice your physical sensations, such as increased heart rate, a tightening in your chest, foggy thoughts or the feeling that you want to run. When we don't try to make something go away or label it as fear, nervousness, etc, our curiosity starts to open the neural pathways that lead to the hind brain and incites a relaxation response.

Read Van Horn's entire blog post on this topic.

Posted: 3/25/10