Follow Your Love Map to Better Sex: My Change Nation Interview with Ian Kerner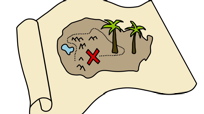 If sex with your partner has become routine, nonexistent, joyless or obligatory, try following your love maps. "You have a unique, individual sexual fingerprint that's really a map to your turn-ons and turn-offs, and your desires and your fantasies," suggests sex expert, Ian Kerner, Ph.D., author of Sex Detox: Recharge Desire, Revitalize Intimacy, Rejuvenate Your Love Life. "Not only do you need to get in touch with that love map, you need to accept your personal love maps and be able to navigate it together."

According to Kerner, many problems in the bedroom actually stem from the media. "We constantly see images that tell us what's sexy, what's not, what should make us feel sexy, what shouldn't," he says. And so "we become cut off from our unique turn-ons and turn-offs." The result is what he describes as a very mechanical and very dead sex life.

Kerner's Sex Detox program, based on a 30-day sex fast, features exercises to help you understand the terrain of your personal love map. "It's not about not having sex," he clarifies for clients, most of whom don't make it the full 30 days. "It's about saying no to a certain kind of sex."

Listen to my entire Change Nation interview with Ian Kerner.
Posted: 3/19/10