Top Advice From Oprah's "Jobs and Moms" Pro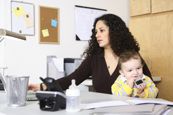 When you return to work after having a baby, one of the most important things you can do is to reestablish yourself very quickly. Career transitions expert, Nancy Collamer, former "jobs and Moms pro" for Oprah's Oxygen Media, explains why. "Your colleagues will be wondering if you have changed, whether or not you are still committed to your job and the impact on their jobs if you are not."

To keep people from tiptoeing around you and from thinking that you won't be willing to take on tough assignments, you need to set the tone. "Let your team know that while you may need some time to ramp back up to where you were, you are prepared to pull your weight," Collamer suggests.

Sharing baby photos and anecdotes is fine, she says, but don't overdo it after the first few days and be sure to gauge your audience. For example, a conference room full of men may be less eager for you to share than a group of fellow working mothers. "While they may be pleased to share in your joy," says Collamer, "it may send the signal that you aren't ready to concentrate on work."

To receive 30 FREE daily tips on Working After Baby, go here and click the Yes button.
Posted: 3/17/10