The Truth About Inspiration: My Change Nation Interview with Daryn Kagan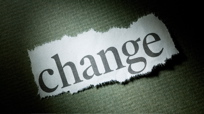 If you've been laid off recently, remember that inspiration can come from the strangest places, and that it doesn't always come all at once. That's the advice of former CNN reporter, Daryn Kagan, creator of the positive news site, DarynKagan.com. When her 12-year career at CNN ended in a layoff, Kagan was forced to find a new direction in life.

Her inspiration came when she least expected it. "I got the idea to start an inspirational news web site by looking at a web site based on war," she remembers. While browsing a site that visited every bad place in the world, she wondered, why not go to every inspiring place in the world?

Kagan reminds us, too, that inspiration comes in pieces. "We expect it come in a nice little package," she says, but "it's really kind of like an inspirational treasure hunt. As each little piece shows up, give gratitude, tuck it in your bag and know that the picture is emerging."

For those who aren't sure what their inspiration is, Kagan suggests buying a six-pack of small, spiral notebooks to keep in the car, by the bed, and so on, for jotting down any image or idea that comes to you. "That's how your big picture is going to come together," she says.

Listen to my entire Change Nation interview with Daryn Kagan.
Posted: 2/5/10